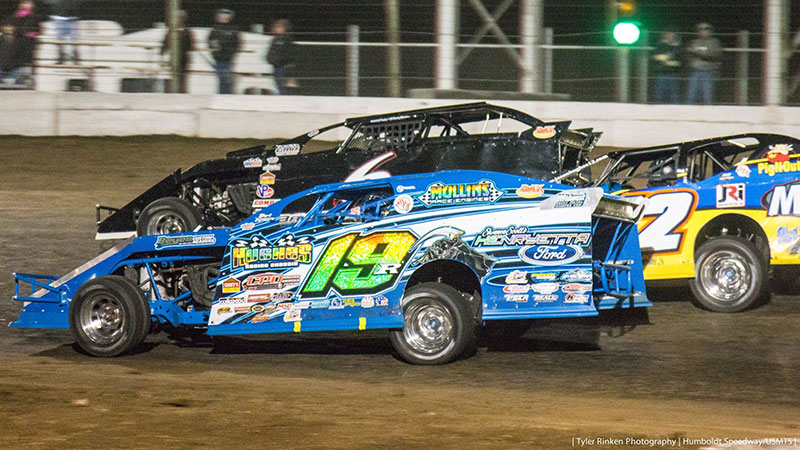 After rain wiped out the first of two nights at the Humboldt Speedway this past weekend, the opening race for the USMTS Casey's Cup powered by S&S Fishing & Rental in the MSD Central Region presented by Day Motor Sports happened Saturday night at 'The Hummer' with 39 cars checked in for competition.
Saturday's main event started with the traditional four-wide parade lap, but this time the fans witnessed two parade laps and the lead position was left open in remembrance of Grant Junghans—one of the series' all-time favorite personalities. The feature was extended from 40 to 42 laps in his honor. At 27 years of age, Junghans lost his six-year battle with cancer at his home last Saturday, March 12.
Driving the No. 19R Gressel Racing/Hughes Racing Chassis machine, Ryan Gustin led wire-to-wire in the night's first heat, and then redrew the third starting spot for the main event. He quickly charged to the front, but despite his best efforts he settled for a runner-up finish behind Jason Hughes.
Due to extremely cold temperatures and snow on the ground, USMTS officials canceled the 8th Annual Missouri Meltdown slated for Sunday at the I-35 Speedway in Winston, Mo.
The first crown jewel event for the United States Modified Touring Series happens at the Humboldt Speedway in Humboldt, Kan., March 31-April 2, for King of America VI presented by Chix Gear. The mega-event will once again feature a 100-lap finale that will see the winner going home with $12,000 while every other starter in Saturday's main event will pocket at least $1,100.
Like last year, each competitor will run four heat races from four different starting positions—two on Thursday and two on Friday—with passing points combined for the best three of the four heats. The top 12 in overall points from Thursday and Friday will be locked into the first six rows of Saturday's finale. The balance of the main event field will come from the "B" Main. Heat race winners both nights will earn $100 with the overall hard charger of the heat races pocketing $200.
To learn more about the United States Modified Touring Series, visit www.USMTS.com online or call 515-832-7944. You can also like us on Facebook at www.facebook.com/USMTS, follow us on Twitter at www.twitter.com/USMTS and Instagram at www.instagram.com/USMTS or subscribe to our YouTube channel at www.youtube.com/USMTSTV.