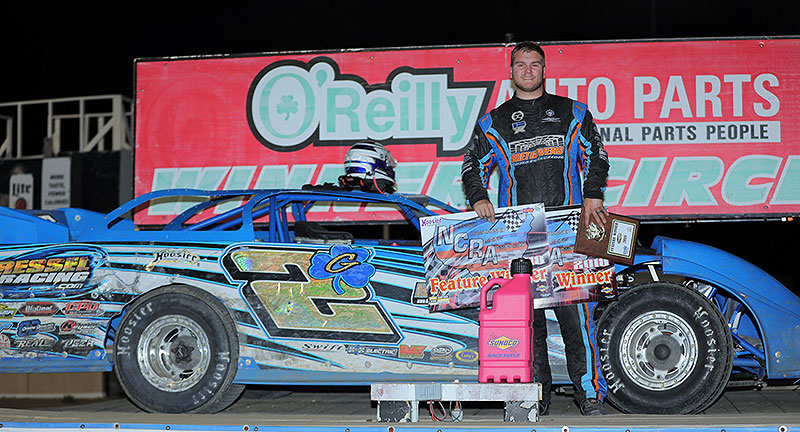 Rookie contender Brandon Givens took the lead on a lap seven restart, held off mid-race challenges from Delbert Smith and went on to claim his first-career National Championship Racing Association of Park City, Kansas presented by Precise Racing Products crate late model feature Saturday night at 81 Speedway in Park City.
Daniel Smith and Corey Dumpert started on the front row for the twenty-five-lap feature with Dumpert taking the lead as the green flag fell. Dumpert, who had won the previous two touring events, opened up a sizeable lead over veteran Smith before the first caution of the race fell on lap seven when Daniel Smith came to a stop on the backstretch.
On the restart Givens, who had worked his way from his fifth starting position, got past Delbert Smith and leader Dumpert to take the lead coming out of turn four to lead lap eight. He would open up a ten-car-length advantage before the night's second and final caution fell on lap twelve when Dumpert got high off the top turns one and two.
The final restart saw Givens run the high-side of the three-eighths mile oval while veteran Delbert Smith utilized the bottom. Smith would briefly take the lead in the corners from laps twelve through sixteen, but Givens kept the momentum up from to stay ahead.
Givens got things rolling with eight laps to go while behind him, Smith had his hands full with seventh starting Rob Leonard. Leonard would take over the runner up position with five laps to go but there was no catching Givens as the Hutchinson, Kansas driver would go on to claim his first series victory and become the 95th different series late model feature winner in that tours 35-year history. Leonard was .238 seconds behind at the flag stand while Delbert Smith settled for third. Dusty Leonard came from his ninth starting position to finish fourth while eighteenth-starting Dylan Schmer rounded out the top five.
The three heat races for the eighteen-car-field were won by Adam Schrag, Daniel Smith and Chris Kratzer.
The NCRA crate late model series will be back in action on Saturday night, June 16, at 81 Speedway.
NCRA Crate Late Models
81 Speedway/Park City, Kansas
Saturday, June 2, 2018
18 Cars
1st Heat: 1) Adam Schrag, 2) Delbert Smith, 3) Brandon Givens, 4) Dusty Leonard, 5) Damian Patocka, 6) Tony Foster
2nd Heat: 1) Daniel Smith, 2) Cory Dumpert, 3) Les Siebert, 4) Bobby Bills, 5) Jimmy Segraves, 6) Jeremy Bishop
3rd Heat: 1) Chris Kratzer, 2) Rob Leonard, 3) Adam Popp, 4) Dylan Schmer, 5) Tracy Harr, 6) Robert Shepard
A Feature: 1) Brandon Givens [5], 2) Josh Leonard [7], 3) Delbert Smith [4], 4) Dusty Leonard [9], 5) Dylan Schmer [18], 6) Chris Kratzer [3], 7) Adam Schrag [6], 8) Daniel Smith [1], 9) Les Siebert [8], 10) Jimmy Segraves [13], 11) Cory Dumpert [2], 12) Damian Patocka [14], 13) Adam Popp [10], 14) Tracy Harr [11], 15) Jeremy Bishop [17], 16) Robert Shepard [15], 17) Tony Foster [16], 18) Bobby Bills [12]